Dhanteras Festival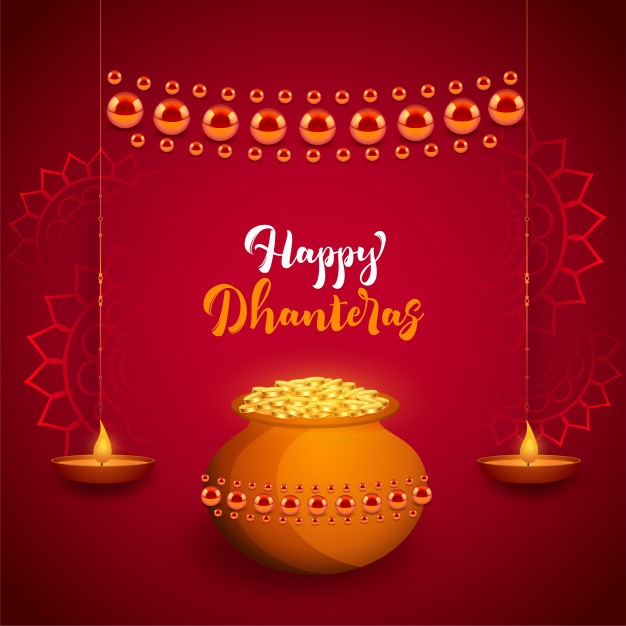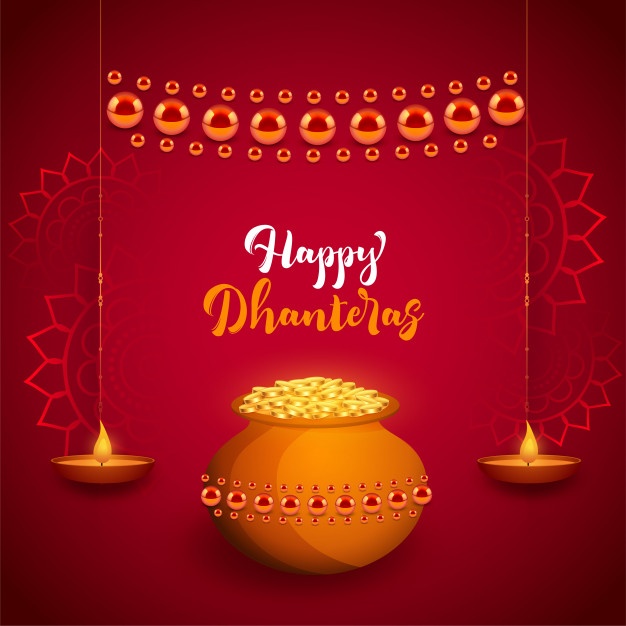 This day, the first day of the five-day Diwali celebration combines the Sanskrit words "Dhan," which means riches, and "teras," which means 13. It occurs on the 13th day of the Hindu lunar calendar and marks the beginning of the festival. It is considered a day of good fortune in Hindu culture to make new acquisitions on this day, particularly pieces of jewelry, but also new utensils, appliances, and even cars. Ayurveda, an ancient Indian medical practice, and Dhanvantari, the health deity, are both revered at this time. Homes are cleaned in preparation for the holiday. Lighting lamps inside houses is done to welcome Lakshmi, and purchasing jewelry is done to bring greater prosperity. Additionally, Dhanteras is connected with having a positive attitude and good luck.
The days leading up to Diwali, a festival during which it is considered fortunate to acquire gold, see a significant increase every year in the amount of jewelry bought throughout Asia. The festival of lights, known as Diwali, is extensively celebrated in India. As part of the festivities leading up to the festival's first day, known as Dhanteras, workers often get bonuses and unique presents from their employers. Diwali is a holiday observed mostly by Hindus, although Jains and Sikhs also observe it. Purchasing jewelry during Diwali is to placate Lakshmi, the goddess of riches and prosperity.
According to statistics provided by the World Gold Council, Indians purchased 194.3 tons of gold during October-December in 2019 and 186.2 tons during the same festival season in 2020, despite the epidemic of Covid-19 affecting sales. The Hindu festival of Diwali, which celebrates the victory of good over evil and light over darkness, often takes place in the early autumn and coincides with the new moon, which is regarded as the night with the least amount of light in the Hindu lunar calendar. This is the reason why the dates vary from year to year.
The reason why people purchase gold on Dhanteras festival
India has lately surpassed China to become the world's biggest importer of gold. Previously, China held this title. Gold is considered to have emotional value in India. Hence many Indian families invest in it. During holidays such as Makar Sankranti, Dussehra, Navratri, Gudi Parva, Diwali, Akshaya Tritiya, and Dhanteras, the purchase of gold is seen as a sign of good fortune by many people. On the festival of Dhanteras, it is regarded as very fortunate to make purchases of gold. The following is a discussion of some beliefs that witness this tradition.
Because Lord Yama could not enter the home, he left the couple to their own devices. People purchase gold and silver on Dhanteras because it is traditional, and they do it to safeguard themselves and the people they care about from any harm, danger, or other kind of negative. The Hindu festival of lights, known as Diwali, is celebrated for a whole week and is regarded as India's busiest shopping season. Jewelry sales tend to increase during this time. This year, most of the shopping is done on the internet. According to projections made by Forrester Research, the amount of money spent over the holiday season on online purchases should increase by 42%, reaching $9.2 billion.
Consumers have become increasingly used to purchasing online throughout the outbreak, which has helped Amazon and Flipkart, an Indian shopping platform owned by Walmart, anticipate breaking records during Diwali. In addition to being a festival that honors all that is fresh and new, Diwali is also a time when people pray for a prosperous and happy future. According to Manish Tiwary, vice president of Amazon India, "This is a significant Diwali for online shopping." Bloomberg reported that statement. Aside from the brief "Happy Dhanteras" greeting, greetings, and messages for this holiday often center on fresh starts and blessings, emphasizing riches and prosperity and frequently invoking the goddess Lakshmi. There are other variations of this phrase, including "May the goddess Lakshmi shower you [and your family] with blessings" and "I hope this festival brings you more good fortune and riches." When extending best wishes to business partners or customers, it is appropriate to wish them "success" in whatever endeavor they are doing.
If you are looking to purchase gold and silver gifts for your friends and family this Dhanteras, then visit our precious metals page! We carry a wide variety of Gold and Silver bullion products for you. Moreover we offer some of the best rates on bullion in Canada and can surely help you get the best price!