2022 1 Oz Silver Britannia Buyers Guide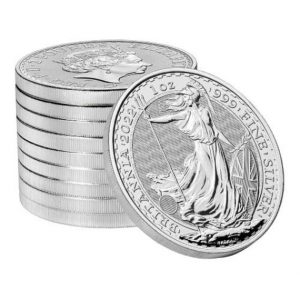 The Silver Britannia coins are certainly among the world's top most popular coins in the silver bullion industry. The Britannia coins have brought tonnes of fame and success to the Royal Mint. Similar to most popular coin series, the Royal Mint issues a new design for the Britannia coin series each year. These outstanding Silver Britannia coins are a worldwide favourite and a must-have in every investor's portfolio. 
The 2022 1 Oz silver Britannia coins are the newest addition to this highly sought-after coin series. Like the rest of the coins in the coin series, the 2022 Silver Britannia coins are made of 1 troy ounce of .999 fine silver. The coins have a face value of 2 British pounds. 
The reverse face of these coins displays the iconic design of the Britannia, standing proudly. In one hand, she holds a trident, and in the other, she holds a shield with England's flag on it. She also holds an olive branch in the same hand. Some of the security features included in the 2022 design are the lenticular privy mark and a wave design in the background. The obverse face of the coin displays a stunning effigy of Her Majesty, Queen Elizabeth II with more information about the coin. 
History of the Silver Britannia coins
The silver coin series was first issued back in 1997, and instantly became known for its remarkable design of the Britannia. Before the silver Britannia coins were issued, the Royal Mint issued Britannia gold coins back in 1987. Since their release, the Silver Britannias have become the most popular silver bullion coin in the UK.
When looking to purchase the 2022 1 Oz Silver Britannia coins, consider purchasing them from AU Bullion. Not only do we offer some of the best deals and lowest premiums, but we are among the most trustworthy bullion dealers out there. We are a trusted Bullion DNA Dealer and an official BBB accredited business. You can purchase the 2022 1 Oz Silver Britannia coins individually, in bulk with 25-piece tubes, or even a monster box of 500 coins if available!