2022 1 Oz Silver Maple Coins Buyers Guide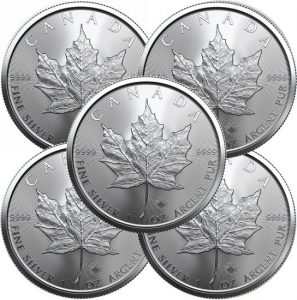 The Royal Canadian Mint's (RCM) Silver Maple Leaf Coins are arguably the most popular bullion coins in the market. Since their release in 1988, RCM produced new Silver Maple Leaf coins each year, constantly adding to the incredibly popular series. The Silver Maple Leaf coins have brought RCM tons of fame and popularity throughout the years, and they continue to do so today. The 2022 1 Oz Silver Maple coins are the newest edition to this iconic coin series.
History of the Silver Maple Coins
The Silver Maple Leaf coin was originally released back in 1988 by the Royal Canadian Mint. Then in 1990, the coins went through a major design change on the obverse face. Both the gold and silver coins were redesigned. They updated the coins with an updated portrait of Queen Elizabeth II, which displayed a more modern etching of her majesty. Another great change that the coins went through was in 1999 when the RCM issued a few of the coins with a privy mark. This change was to honour the coins' 20-year anniversary and success.
The 2022 1 Oz Silver Maple Coin
The Silver Maple coins contain one troy ounce of the finest, 9999 silver. Aside from their physical value, these coins have a face value of $5. Three main physical features stand out on these Silver Maple Leaf coins: The radical lines along the two faces of the coins, a micro-engraved maple leaf, and the Bullion DNA anti-counterfeiting technology.
If you're looking to purchase the 2022 1 Oz Silver Maple coins, consider purchasing them here at AU Bullion. We are a trusted Bullion DNA Dealer and authorized and trusted Royal Canadian Mint Dealer. We offer some of the lowest premiums and the best deals on our 2022 1 Oz Silver Maple Leaf coins. You can also purchase them in bulk with our 25-piece Tubes as well. You can even purchase a whole monster box of 500 coins too!