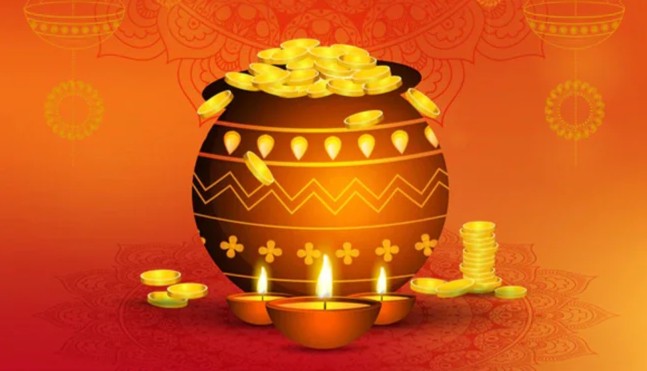 Dhanteras is a traditional festival in India, that marks the first day of Diwali. The date for the festival changes each year, but this year Dhanteras is on November 2nd. Known for its lively celebrations, Dhanteras is also a popular time to purchase precious metals. Precious metals like gold and silver are traditionally bought during Dhanteras and Diwali, resulting in increased demand during the festive season. 
Physical Gold
Traditionally, gold is the most popular precious metal and can be purchased in the form of jewellery, bars and coins. Following China, India is the second-largest consumer of gold, making it even more popular during the festive season. 
When purchasing gold in its physical form, its price includes making charges. This can be the cost of shaping gold for jewellery. Unlike non-physical gold, physical gold covers the full price of the purity of the gold and the price of shaping the jewellery. Since this costs more, wealth planners and investors typically purchase gold in a non-physical form. 
Non-Physical Gold
Unlike physical gold, non-physical gold only covers the cost of the purity and weight of the gold. Non-physical gold prices focus on the intrinsic value of gold, which is why it is better for investing. It can mainly be purchased in bulk, in the form of bullion. Non-physical gold can be found in the form of bars and coins. 
Gold Stocks – ETFs
One way to invest in gold is gold exchange-traded funds, also known as ETFs. Investments in physical gold for gold stocks are traded the same way as stock exchanges. The investors invest in gold with 99.5% purity. Approximately 90% of the money in investors' Demat accounts or trading accounts is invested in physical gold. To deal in gold ETFs, investors must have a Demat account as well as a trading account. 
Out of all these methods, buying the physical Gold is your safest and best option. This way you have full control of your investment. It is also a great way to hand deliver your gift to your loved ones on Dhanteras and Diwali. View our wide selection of Gold coins and Gold bars to give a gift for Dhanteras 2021. We also have some special Golden Temple and Laskshmi Ganesh silver bars and coins for our Diwali 2021 promotion! Happy Dhanteras and Happy Diwali!